Dr Sircus Protocol: Treatments and Products
All living organisms have basic elements in common: carbon, hydrogen, oxygen, nitrogen and so on. These elements make up 99% of atoms found in the body. The four "macromolecules" that make life possible - protein, carbohydrates, lipids and nucleic acids all have hydrogen piggy backing on them that the body needs to strip off. The other major elements, phosphorous, sulfur, sodium, potassium, calcium and magnesium, total just 3.5% of a living being's body, with trace elements like iron, iodine and other minerals taking up the remaining 0.5%, yet with iodine, for instance, we find we cannot live at all without it.
The western medical establishment has tossed the fundamental conditions that make us alive into the trash-can preferring to work with toxic drugs that do little to nothing to improve the health of patients. To understand the backbone of Natural Allopathic Medicine, and how it is different from other health and medical approaches, one needs to study how magnesium chloride, sodium bicarbonate and even selenium are used in ICU and emergency departments. These three medicines can be injected or administered intravenously for fast acting effect in life threatening situations, so can Vitamin C, and even Vitamin D can be administered in mega-dosages orally and intravenously.
Natural Allopathic Medicine takes these and other natural substances at high concentrations applying them not just for life saving situations but for days for acute medical situations like the flu, weeks, months for chronic disorders and even for years when anti-aging is the goal.
Concentrations can be as high as when they are injected directly into the blood, but instead of medical doctors using them in extreme situations we use them at home both orally and transdermally. The same medicinal power that can save a life in a heartbeat can be used continuously through long stretches of time at very high dosages for maximum effect.
The protocol's top ten to fifteen items can all be used in similar ways. Each substance or medical process applies concentrated nutrition that nurtures the cells helping them to dump toxins. When we nurture cells by feeding them what they need they tend to respond positively. They clean themselves as they fire up the mitochondria for increased oxygen respiration.
The top three nutrients the body needs are gases: oxygen, hydrogen and carbon dioxide. Water obviously combines two of these most important substances, hydrogen and oxygen. The idea is to get command of these three gases as a starting step and then add magnesium, iodine, selenium and both sodium and potassium bicarbonate.
This is different from modern medicine, chiropractic, homeopathy and naturopathic practices of medicine but anyone from any discipline can practice Natural Allopathic Medicine. Probably the most similar approach is orthomolecular medicine. Two-time Nobel Prize winner, and molecular biologist, Linus Pauling, Ph.D., used the term 'orthomolecular' "to refer to the practice of varying the concentration of substances normally present in the body to prevent and treat disease." Orthomolecular medicine provides the body with optimal amounts of substances which are natural to the body.
What distinguishes Natural Allopathic Medicine is its simplicity. It is easy to learn and easy to practice. One does not have to be a doctor to practice on oneself and one's loved ones at home. One does not have to break any laws or go bankrupt practicing this approach.
We nurture the body with infrared energies as we sleep, which is warming and incredibly comforting. We slow the breathing down to increase CO2 retention in the blood using a fifty-dollar breathing retraining machine; use edible clay for basic detox and then glutathione to deepen detox.
Often because of dietary deficiencies it is more then helpful to employ superfoods like spirulina, chlorella, sprouts and wheat grass, which can be augmented with liquid seeds and powdered formulas.
There is Always More
There is always more things one can add to one's treatments, many of them very important like vitamin E and omega 3s, but there is a limit to what one can take as well as afford. Personally, I like in my arsenal medical marijuana, CBD skin salves, boron (which I have not focused on but will in the future) even turpentine can be used as a simple natural but potent medicine. And there is always more including frequency medicine and my very favorite magnesium massage and baths.
I have only recently rediscovered ancient Chinese cupping, which is an inexpensive treatment one can do at home. As an acupuncturist I would almost always advise people to seek out Chinese medical diagnosis and treatment. One of the things that personally helped me was attention spent studying my Heart Rate Variability (HRV) using a Russian made instrument called the VedaPulse. It certainly had the ability to help me realize and understand how much stress I was under.
The point is to focus the mind on the raw ingredients of life and understand that one can easily learn to treat oneself. The practice of medicine should include all the basics and it is my point of view that medical malpractice is the deliberate withholding of the basics substituting them all for pharmaceutical poisons.
The Natural Allopathic Protocol is powerful and at the same time extraordinarily safe because nutritional medicines, not pharmaceuticals, are employed. Below is an outline of my protocol components. You will find links, not only to the companies that sell the equipment and medicinals but also to videos that will introduce and provide some instruction in their use.
Three levels of understanding
We offer to the public three levels of understanding and practice. The first level are the medicinals, many of which are used in hospitals, which you can take orally, transdermally, through nebulization, suppositories and medicinal baths. The second level are medical devices that incorporate the best medical technology. The third level are deeper levels of diagnosis and treatment.
On the first level
We offer a low-cost protocol of the most basic powerful medicinals, many of which are used in fine hospitals or should be. Hydrogen, sodium and potassium bicarbonate, magnesium, iodine, selenium, medical marijuana, oxygen, CO2, glutathione, Vitamins C and D and sulfur are the principle natural agents that can be used in intensive care wards as well as your own home. And for holistic, full-body, overnight deep-cellular detoxification click here.
Included in this list is super nutritional substances like spirulina, seed nutrition in liquid form and Rejuvenate formulas. Add Lingzhi mushrooms and you have an easy to use hard hitting protocol that most intensive care doctors would envy.
Chlorine Dioxide
WHERE TO BUY
Molecular Hydrogen
H2 reduces oxidative stress as a selective antioxidant and by maintaining homeostatic levels of glutathione, superoxide dismutase, catalase, etc.
MORE INFORMATION
Magnesium Medicine
Magnesium is an essential mineral used for hundreds of biochemical reactions, making it crucial for health.
WHERE TO BUY
When it comes to magnesium oil, I recommend only the best Ancient Minerals, because this product is of the absolute highest quality meaning it can be used for any application, even for eye washes and IV solutions. Coming from a 250 million year old sea deposit below Europe it is the purest and most powerful medicine in the world.
Purchase Now
The "Zechstein Inside®" unique extraction process is never heated, or refined and it is bottled in it's "raw" natural state without the need for chemical purification, which is the industry standard for magnesium chloride. Its all about the source. From unique mineral deposit layers found under the Netherlands, this "white gold" as they call it in Holland, is of the highest quality. We let nature do the purification for us over 250 million years, leaving a raw state pure magnesium.
Purchase Now
Magnesium bicarbonate is a complex hydrated salt that exists only in water under specific conditions. The magnesium ion is Mg2+, and the bicarbonate ion is HCO3-2. So, magnesium bicarbonate must have two bicarbonate ions: Mg (HCO3)2. Magnesium chloride and sodium bicarbonate taken at full strength with water at slightly separated times are an ideal way to supply magnesium ions and bicarbonate ions to body cells.
Purchase Now
MORE INFORMATION
How to use Magnesium Oil Therapy
eBook: Transdermal Magnesium Therapy
pH Medicine
Sodium Bicarbonate is a powerful medical tool that can benefit everyone.
WHERE TO BUY
For everyone's convenience I suggest this bicarbonate formula, not only because it is easy to take your bicarbonate but you also get the needed potassium, which is very helpful for everyone.
Purchase Now
MORE INFORMATION
Bicarb Magical Mineral Supplement
eBook: Sodium Bicarbonate – Second Edition
Iodine Medicine
The practice of iodine medicine is simple and safe. Iodine is by far the best antibiotic, antiviral and antiseptic of all time.
WHERE TO BUY
Nascent iodine is iodine in its atomic rather than its molecular form. It is an iodine atom that has an incomplete number of electrons meaning it can hold an electromagnetic charge. Nascent iodine has a large energy release when consumed because energy is saved. Nascent iodine is recognized by the body as the same iodine that is produced by the thyroid so it is absorbed effortlessly by the body.
Purchase Now
Lugol's Iodine Solution 2% contains a trace mineral that occurs naturally in the environment and is essential to the human body.
Purchase Now
MORE INFORMATION
Iodine Supplements and Dosages
eBook: Iodine: Bringing Back the Universal Medicine
Lipid Minerals
Taking selenium is safer than taking aspirin. Selenium will increase immune system strength and greatly reduce one's chances of contracting or dying from cancer.
WHERE TO BUY
Important trace mineral for function of the antioxidant enzyme glutathione peroxidase protecting against free radical damage, especially in cell membranes. In this role, it supports and protects immune function, and plays a role in the development and function of white blood cells. Selenium also exerts its own antioxidant activity and is involved in the production and utilization of thyroid hormones. Due to its unique roles in the body, selenium is required for many specialized functions, and plays a major role both in providing support for general health and for numerous health conditions as Thyroid Health Cancer prevention Heart Health.
The amount of selenium needed to obtain normal blood levels varied from person to person.
For this reason, consuming foods high in selenium can support detoxification and take stress off the organs like the liver and thyroid. The RDA for selenium is 55 mcg/day and the Daily Value is 70 mcg.
Purchase Now
Lipid Zinc is a potent concentrated form of zinc that has increase bioavailability over other forms of zinc. Our Lipid Zinc contains 5.5 mg of zinc in a lipid format.
The lipid format allows rapid absorption and superior bioavailability. Lipid Zinc contains no artificial colors, flavors, sugars, stimulants or other additives. No animal testing or animal by-products.
Purchase Now
Lipid Copper is a potent concentrated form of copper that has increase bioavailability over other forms of copper. Our Lipid Copper is based on the original formula of Dr. Emanuel Revici, M.D., the "Doctor Who Cures Cancer". Each serving of Lipid Copper contains 67 mcg of copper in a lipid format.
Purchase Now
Lipid Sulfur is a potent concentrated form of sulfur that has increase bioavailability over other forms of sulfur. Our Lipid Sulfur is based on the original formula of Dr. Emanuel Revici, M.D., the "Doctor Who Cures Cancer". Each drop of Lipid Sulfur contains 100 mg of sulfur in a lipid format.
Purchase Now
MORE INFORMATION
eBook: Selenium Medicine: And the Rising Tide of Mercury
Glutathione Medicine
Glutathione takes the practitioner to a new level because glutathione is so important for health and recovery from serious diseases.
Glutathione is considered to be the most powerful, most versatile and most important of the body's self-generated antioxidants that are found in almost all living cells. It is also considered to be one of the most powerful anticancer agents manufactured by the body. You can take it in capsules, suppositories, oral spray and in combination with EDTA for deep detox of heavy metals.
WHERE TO BUY
Reduced L-Glutathione Plus:tm: is specifically engineered for enhanced absorption using ultra purity grade reduced L-glutathione and sodium bicarbonate. When mixed with distilled water or saline solution, Reduced L-Glutathione Plus:tm: becomes isotonic, making it comfortably ideal for lung, nasal, and other soft tissue contact.
Purchase Now
Quicksilver's Phospholipid Encapsulation Etheric Delivery© system protects the glutathione from digestive enzymes that otherwise inhibit absorption of oral glutathione supplementation. In cell cultures, liposomal products have demonstrated over 100 times more efficiency for intracellular delivery than IV-based liposomal glutathione.
Purchase Now
Completely natural, this probiotic blend is crafted from quality, additive free ingredients to help support the lower intestine's natural flora balance. With a 500 gm dose – the maximum possible in a suppository – it's a highly powerful glutathione. With its synergistic combination of high potency glutathione suppositories and probiotics, it delivers exceptional antioxidant and anti-inflammatory benefits, fortifying the body's immune response.
Purchase Now
MORE INFORMATION
Cannabinoid Medicine
Every practitioner of medicine and every parent should know how and when to utilize its almost miraculous medicinal.
WHERE TO BUY
600mg Full Spectrum CBD | 2-oz Jar | Lavender & Eucalyptus
Purchase Now
PREMIUM HEMP OIL: Rich in cannabinoids for an entourage effect, each serving provides 50mg of cannabidiol (CBD) for a total of 1500mg CBD per bottle.
Purchase Now
PREMIUM HEMP OIL: Rich in cannabinoids for an entourage effect, each serving provides 25mg of cannabidiol (CBD) for a total of 750mg CBD per bottle.
Purchase Now
Sun exposure
The sun is the best way to get our vitamin D but it can also be taken in supplement form
WHERE TO BUY
Supplementation with vitamin D may be necessary to meet daily needs, since obtaining sufficient vitamin D3 from natural food sources and sun exposure alone can be difficult. Research shows that vitamin D3 (cholecalciferol) is approximately 87% more potent than vitamin D2 for raising and maintaining vitamin D blood levels.
Purchase Now
MORE INFORMATION
Vitamin C
Vitamin C can be administered orally or intravenously depending on the seriousness of one's condition. It is one of the most underestimated substances in the medical world.
WHERE TO BUY
Vitamin C is known to perform many critical functions within the body involving detoxification, tissue building, immune enhancement, pain control, and controlling or killing pathogenic organisms. It is known to be helpful for wound and bone healing, healthy skin and eyes, fighting infections, stress control, toxic exposure, and repairing damaged tissue of all types.
Purchase Now
MORE INFORMATION
Using Vitamin C for Heart Disease, Cancer and Cell Protection
DETOX
WHERE TO BUY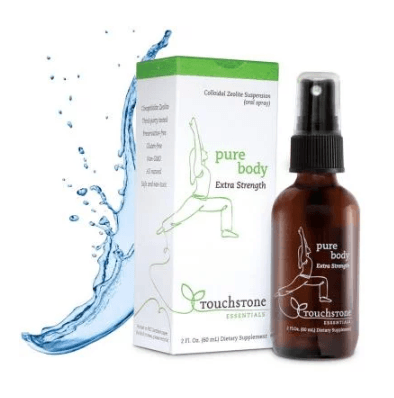 Cleanse your body of toxins, heavy metals and pollutants with the original, nano-sized zeolite detoxifier.
Purchase Now
Living Clay® is a weathered volcanic ash made up of numerous trace minerals in their natural oxide form that has evolved over millions of years into a super-charged, triple-swelling, green Calcium Bentonite Clay with Montmorillonite properties. Its negative electro-magnetic charge gives it a strong vacuum-like ability to capture and discharge positively charged toxins from the body.
It has the ability to cleanse and detox internally and externally, while at the same time bringing balance and equilibrium to the body through its 9.7 pH and its homeostatic ability.
Purchase Now
MORE INFORMATION
Sulfur Medicine
Sulfur disinfect blood, helps the body to resist bacteria, and protects the plasma cells. It assists in oxidation processes necessary in the body and protects against the harmful effects of radiation and pollution.
WHERE TO BUY
Organic sulfur is an acid-forming mineral that is part of the chemical structure of the amino acids methionine, cysteine, taurine, and glutathione. Sulfur disinfects the blood, helps the body to resist bacteria, and protects the protoplasm of cells. It aids in necessary oxidation reactions in the body, stimulates bile secretion, and protects against the harmful effects of radiation and pollution. It is found in hemoglobin and in all body tissues, and is needed for the synthesis of collagen, a principal protein that gives the skin its structural integrity.
Purchase Now
MORE INFORMATION
Zinc
Zinc is a key component in the body involved in enzyme function, production of healthy skin, bones and hair, CO2 transfer in red blood cells, the synthesis and metabolism of protein and nucleic acids, reproductive functions, wound and burn healing, antioxidant protection, insulin function, and taste acuity.
WHERE TO BUY
DOUBLE ZINC PLUS is a carefully formulated blend of zinc picolinate and zinc citrate in conjunction with the coenzyme form of Viamin B-6
Purchase Now
Super Nutrition
Nutrition is crucial in terms of maintaining health and recovering from disease.
WHERE TO BUY